Tectosilicates
---
Feldspars
What you must learn
Solid solution between albite and anorthite (plagioclase series).
High temperature solid solution between KAlSi3O8 (sanidine) and NaAlSi3O8 (albite).
High-temperature disorder of Al and Si on tetrahedral sites (sanidine vs. microcline).
Structure, Crystal Chemistry and Compositions of Feldspars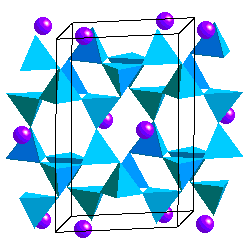 Feldspars are tectosilicates in which each (Al,Si)O4 tetrahdedron is corner-sharing with 4 others. The tetrahedra form four-membered rings Because some of the Si atoms are replaced by Al, there is a net charge on the framework so the structure accomodates K+, Na+ or Ca2+ cations. Ca2+ and Na+ have similar ionic radii. The coupled substitution Ca-Al and Na-Si results in a continuous solid solution between albite (NaAlSi3O8) and anorthite (CaAl2Si2O8). Feldspars of intermediate composition have are called oligoclase, andesine, labradorite and bytownite. However, it is not necessary that you know these. A solid solution between albite and andesite is called plagioclase. The ionic radii of Ca and K are sufficiently different, however, that there is no solid solution between anorthite and KAlSi3O8. On the other hand, the ionic radii of K+ and Na+ are similar enough to allow solid solution at high temperature.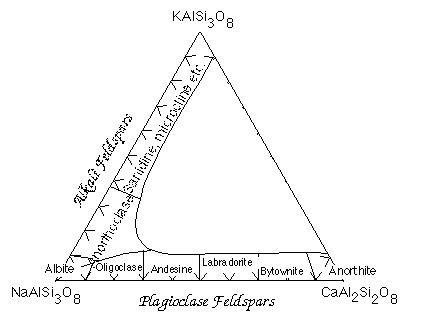 Upon cooling, however, the Na and K endmembers are no longer miscible and the solid solution will exsolve into to feldspars, one Na-rich and the other K-rich. This is another example of a miscibility gap. The exsolution lamellea that result are called perthites .
Al-Si Order-Disorder in Feldspars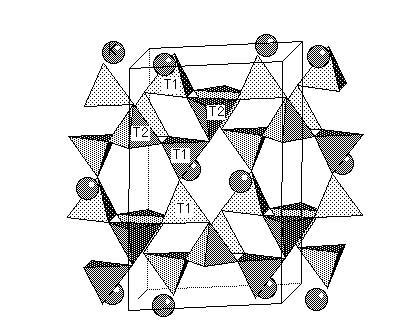 In alkali feldspars, there are two types of tetrahedral sites (T1 and T2) occupied by Al or Si. At high temperatures the Al and Si atoms are disordered over the T1 and T2 sites.
The resulting structure has monoclinic symmetry and is called sanidine . With cooling, the Al and Si atoms order to prevent Al atoms from occupying adjacent tetrahedral sites (the "Al avoidance principle"). The resulting structure is triclinic and called microcline.
Twinning in Feldspars
Sanidine, Microcline and Plagioclase have characteristic twinning which helps distinguish them. Sanidine typically shows the Carlsbad Twin law:
| | |
| --- | --- |
| | |
| Sanidine in Plane Polarized light | Sanidine in Cross-Polarized Light |
Microcline shows a characteristic cross hatched twinning that results from the Al-Si ordering upon cooling.
| | |
| --- | --- |
| | |
| Microcline in Plane Polarized light | Microcline in Cross-Polarized Light |
Plagioclase shows the characteristic albite twinning that results from the Al-Si ordering upon cooling.
| | |
| --- | --- |
| | |
| Plagioclase in Plane Polarized light | Plagioclase in Cross-Polarized Light |